2-Step pH Balancing Set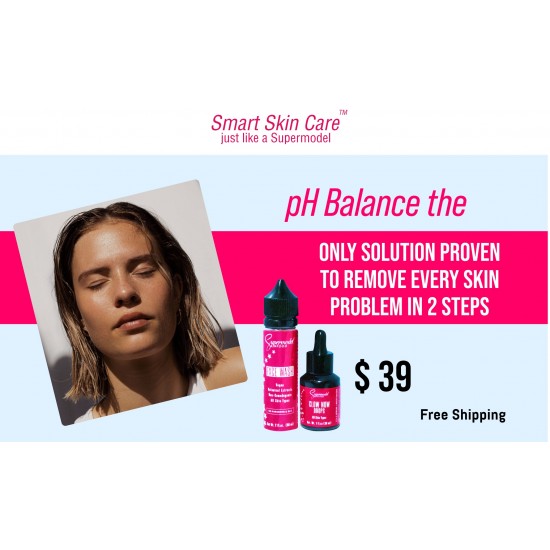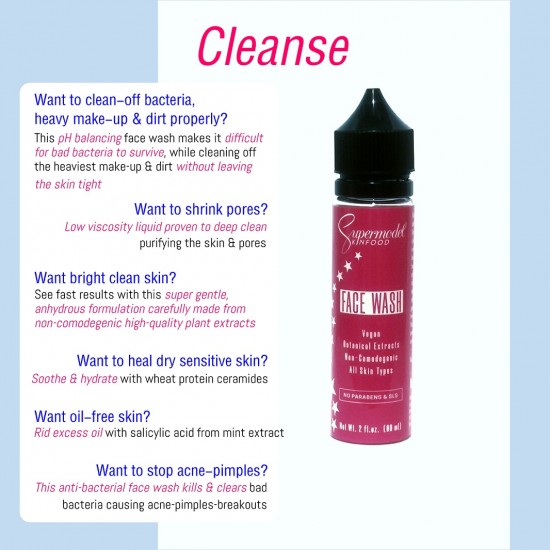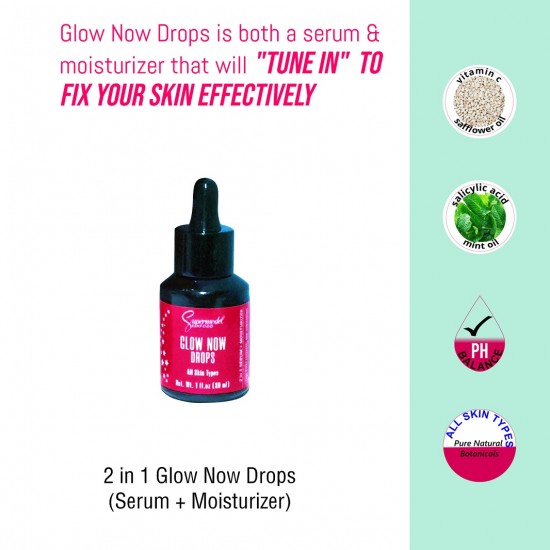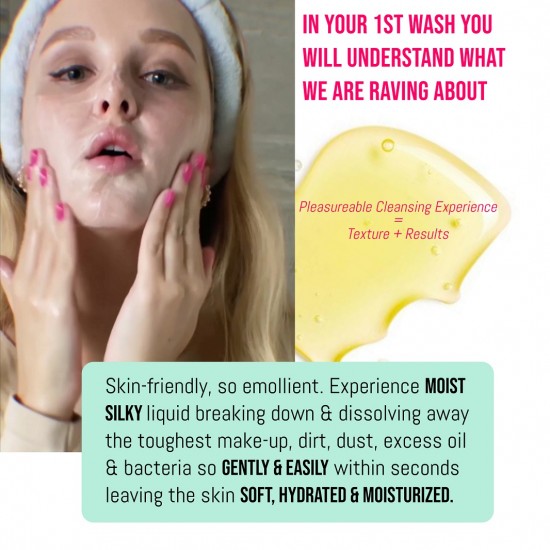 2-Step pH Balancing Set
We could have different issues on our face at the same time. For e.g. dry cheeks with oily nose to forehead with acne or pimples. We have been taught to use products according to skin type, like "oily skin cleanser" or "dry skin serum". This outdated method does not solve skin problems, as applying "oily" or "dry" skin products on non-oily or non-dry areas causes pH imbalance, which is the root of a lot of skin problems. The secret solution is apply products formulated to normalize the skin's pH. Using too many products will only confuse the skin's pH. Keep your skin care routine easy & effective. Stop confusing your skin.
Supermodel Skinfood's Face Wash and Glow Now is especially formulated, suitable for any/ all skin types and its the first step to restoring balance.
FACE WASH (2 in 1 Cleanser + Make-Up Remover)
This Antibacterial Face Wash gently cleanses and removes the heaviest waterproof makeup and impurities without any harsh rubbing or tugging leaving the skin feeling soft and bright. Made from pure plant extracts, this non-irritating formula kills acne causing bacteria, pimples and zits. As a 2 in 1 cleanser/makeup remover, it contains natural plant extracts to hydrate dry areas and balance out excess oil if any, while removing dead skin cells for healthier looking, smoother skin. Gentle enough for everyday use and can be used as a facial cleanser or as a makeup remover before.

Here is how the Supermodel Skinfood's Face Wash is made to work:
For dry-normal or aging areas, if any – Formulated with wheat protein, an ingredient with one of the highest content of ceramides. Ceramides are special lipids that deliver moisture to the skin.
For oily areas, if any - Mint Oil contains salicylic acid which helps balance-out the different parts of the face causing oiliness, dryness, and sensitiveness.
For difficult areas, if any (Acne, Milia, Break-Out, Pimple, Pores) – The anti-bacterial component is essential to stop bad bacteria from breeding acne, zits, pimples and break-outs.
GLOW NOW DROPS (2 in 1 Serum + Moisturizer)
Supermodel Skinfood's new product Glow Now Drops is a revolutionary technological breakthrough in skincare. A 2-in-1 serum cum moisturizer that instantly infuses skin with a dewy, glistening glow. The formulation is laser focused, which is why you do not need to waste time or money on many products. It is lightweight, packed with vitamins and minerals from pure plant oils similar to our skin's pH to end skin problems and to improve texture and diminish any roughness. This will be your skin's best friend. The main component of Glow Now Drops is Safflower Oil. Safflower is non-comedogenic, and extremely rich with Vitamin C, that is why it will deliver results for all skin types. You can't go wrong with Vitamin C, it helps minimize pores and even out skin tone while also hydrating the skin without causing acne breakouts or greasiness. Now you can have glowy hydrated healthy skin with a few nourishing drops daily.
Here is how Glow Now Drops works on any skin type.
For dry-normal areas, if any – Vitamin C from Safflower Oil will help repair and moisturize dry skin.
For oily areas, if any – Sometimes oily skin, could be the result on underlying dry skin which forces the skin to overproduce oil making it "over oily". Molecules from the oil helps balance the skin's oiliness. Some women have seen results almost instantaneously. Glow Now also helps make-up stay on, so you can now say bye-bye to blotting and melting make-up.
For difficult areas, if any (Acne, Milia, Break-Out, Pimple, Pores) – Vitamin C + Mint Oil combo in Glow Now Drops works two fold for difficult skin. This anti-viral ingredient helps scare off bacteria and, as zits, acne, pimples and break-outs disappear, the left over scars and blemishes will be taken care off by the Vitamin C component.
For aging areas, if any – Powerful botanical extracts help regenerate, illuminate & improve the skin's texture and tone. Cell regeneration is important to retain elasticity, to delay aging, wrinkles and sagging skin.
This set contains
1 unit Face Wash (2 fl.oz (60 ml))

1 unit Glow Now Drops (1 fl.oz (30 ml))



Subscribe to our newsletter during checkout if you want more tips, tricks, causes and solutions about keeping your skin healthy like a supermodel.
Face Wash: Castor Oil, Wheat Protein, Potassium Olivoyl, Lavender Extract, Mint Oil.
Glow Now Drops: Castor Oil, Rosehip Oil, Safflower Seed Oil, Mint Oil, Lavender Essential Oil.
Face Wash is the 1st Step in any skin care routine. This face wash has dual purpose as a cleanser and as a make-up remover.
How to cleanse:
· Use warm water to lather a small amount (pea size) of face wash on the palm
· Massage entire face in a circular motion gently for a few minutes removing dirt & makeup
· For best results use a cleansing brush to unclog pores
· Best to wash off the lather with warm water (avoid hot or cold water)
· Use a soft wash cloth to gently pat the face dry
Glow Now Drops is the last step in the skin care routine and should be applied just before foundation (make-up).

How to apply Glow Now Drops:
· Apply small drop on the cheeks, forehead & nose then massage the drops around the face
· Ensure the entire face is lightly covered
· When applied right, start & end your day with a glowing face
· To hold make-up flawlessly all day, immediately follow with foundation after applying Glow Now

Supermodel Skinfood is a green-clean beauty line. Products deliver results because they are made using pure fresh botanicals that are available in limited batches. Pre-Order gets you in-line for superior quality products. Cultivation and water plays a big role in the sustainability of our earth.
Plant ingredients harvested via eco-friendly farming 3 times a year in Europe & Asia in limited quantity. Timing, climate, and process of cultivation is important to producing the best quality. All products are pure, potent and effective, and not diluted with emulsifiers or water. Water is scarce, and in some parts of the world, people hardly have access to it. Although dilution with water will increase profits, we are not in favor of wastage. For us, it is people, plants over profits. Supermodel Skinfood is an eco-friendly, earth-conscious, pro-sustainability producer. We also consciously aim to reduce wastage through pre-orders.